Tahun 2011 ni macam2 gadget baru yg dilancarkan. Iphone 4S, Galaxy Tab 10.1 dgn 7.0, Nokia N9 pun launch juga. Tapi dlm banyak2 gadget yg dah launched in this year, yg paling menawan hatiku tentu sekali Samsung Galaxy NOTE...
NOTE ni dah kena dgn nama dia mmg dah mcm buku nota sekolah dah. Dgn skrin sesentuh yg besar, 5.3" mmg puas la kalau buat tonton video. Tambahan ada stylus pen yg sgt sensitive dgn apa yg kita tulis, mmg satu kelainan smart phone samsung kali ni.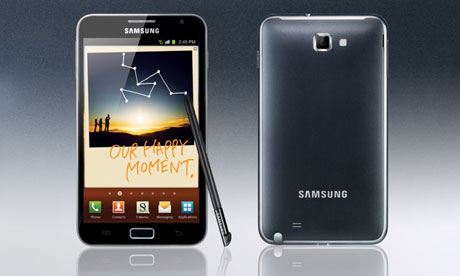 samsung galaxy NOTE
Specs NOTE (taken from samsunggalaxynote website):
Specifications:
General info
Device type:
Network technology:
Data:

UMTS:
HSPA:
HSPA+ (4G):
LTE (4G):
Design
Design:

Form Factor:
Dimensions:

5.78 x 3.27 x 0.38 (146.85 x 82.95 x 9.65 mm)

Weight:

6.28 oz (178 g)
the average is 4.4 oz (126 g)

Stylus:
Display
Display:

Technology:
Resolution:
Physical Size:
Colors:
Touch Screen:
Multi-touch:
Light sensor:
Proximity Sensor:
Battery
Capacity:
Talk time:

13.00 hours
the average is 8 h (463 min)

Stand-by time:

570 hours
the average is 400 h (17 days)

Talk time (3G):
Stand-by time (3G):
Software
Smart Phone:
Processor:
Memory:
3D Graphics hardware accelerator:
Camera
Camera:

Resolution:
Flash:
Features:

Auto focus, Smile detection, Multi shot, Panorama, Scenes

Video capture:

Resolution:

1920×1080 (1080p HD) (30 fps)

Additional camera:
Video Calling:
Multimedia
Music Player:

Supports:

MP3, AAC, FLAC, WMA, WAV, AMR, OGG

Video Playback:

Supports:

MPEG4, H.263, H.264, DivX, XviD, WMV

Radio:
YouTube player:
Internet browsing
Internet Browsing:
Built-in online services support:

Facebook, YouTube (upload), Picasa, Twitter
Location Based Services
Location Based Services:
Type:
Navigation:
Phonebook
Support:
Capacity:

Capacity depends on system memory

Features:

Caller groups, Multiple numbers per contact, Search by both first and last name, Picture ID, Ring ID
Organizer
Calendar:
Alarms:
Document Viewer:
Other:
Memory
Memory Expansion:

Slot Type:
Maximum card size:

Built-in:
Connectivity
Bluetooth:
Wi-Fi:

Yes (802.11b, 802.11g, 802.11n)

NFC:
USB:

Type:
Version:
Features:

Mass storage device, USB charging

Headphones connector:
Kalau tanya pendapat aku, NOTE ni sebenarnya sesuai utk mereka yg berkerjaya sbg arkitek, lecturer, artist ataupun students. Student mcm aku yg amek line medic ni kurang sesuai la sbb aku x belajar lukis2 ni. Mungkin boleh guna utk masuk apps medic ataupun catat points penting masa lecture. Tapi dah hati berkenan nak buat macamna cuma belum ada rezeki nak jadi hak milik kekal. Huhuhu....
perbandingan NOTE dgn SII
Ciri2 NOTE yg membuat aku tertarik:
1. Skrin yg besar, 5.3" (setakat ni NOTE smart phone dgn skrin plg besar selain Tab/IPad)***
2. Sistem Android plg latest dgn 1.4GHz
3. Homescreen yg menarik dan pelbagai fungsi
4. Ada stylus pen (dah try dekat samsung store mmg well-respond)
5. Kamera dan rakaman video FULL HD
p/s : sbb terlalu boros x dapat nak beli....so sad =( jom menabung utk NOTE!!! ^ ^